National Service Scheme (NSS)
National Service Scheme is one of the important activity channel for the student volunteers for their all-rounder personality development. Under this unit students are trained in various views with social communication. The NSS includes the activities in two ways as:

1. Regular activities &
2. Special Winter Camping Program
This includes following activities
NSS winter camp for students is conducted every year.
Medical health check up camps: - General medical health checks up camps for the common people in village are organized. e. g.


General check up
ENT & Eye check up
School health check up camp

Health awareness of the village people through various cleanliness activities like cleanliness of the roads, school premises, temples, home surroundings etc. is brought about.
Conducting different awareness programs like AIDS awareness, mother and child health awareness; family welfare etc. is also done regularly.
Organizing various lecture session on

Different health activities
Personal hygiene
Yoga - demonstrations
De-addiction etc.
Members
NSS Programme Officer: Mr. Amol Patil
Asst. Programme Officer: Dr. Ninad Nangre
Recent activities:
International Yoga Day 2019
College staff and students and NSS unit participated in International Yoga Day celebration at Dhankwadi campus on 21st June 2019. Our Faculty Yogacharya Dr. Amol Patil conducted the whole session. Vice Chancellor Prof. Dr. Shivajirao Salunkhe, BV Ayurved College Principal Prof. Dr. A.B.Patil, BV Medical College Principal Prof. Dr Mani, BV Engineering College Principal Prof. Dr. Bhalerao were present.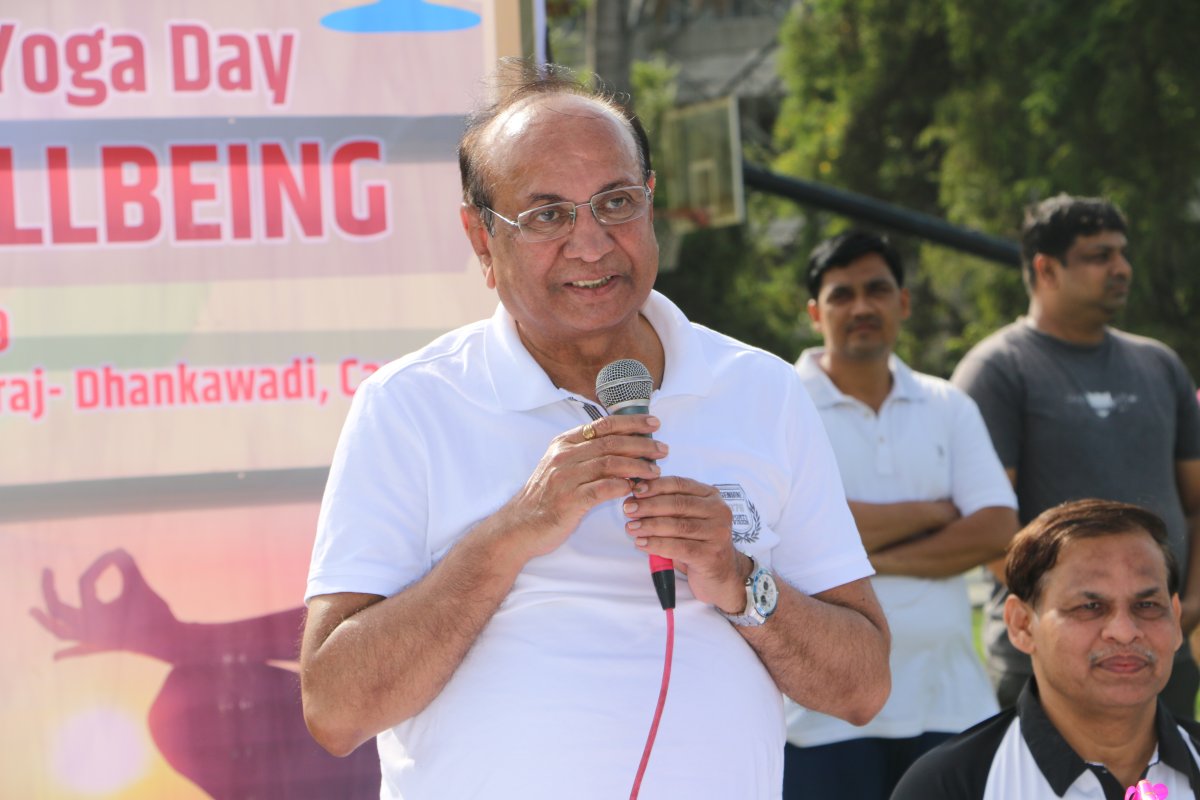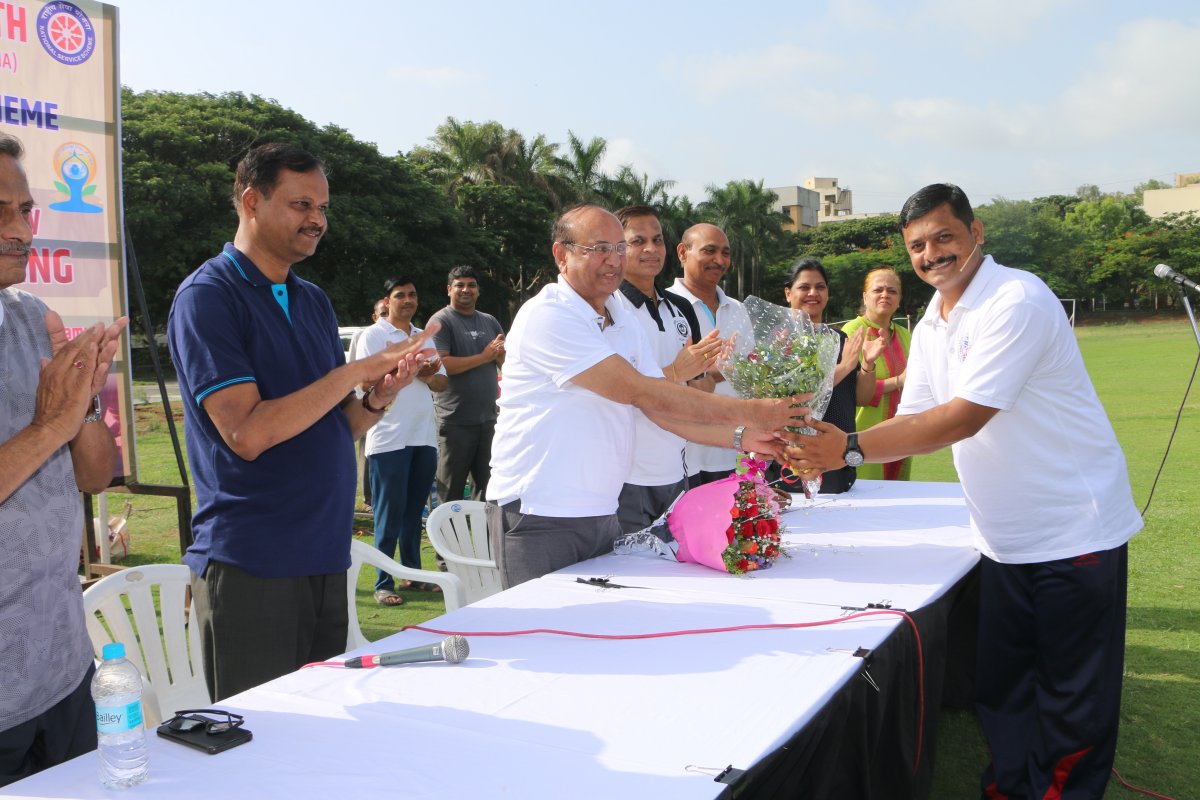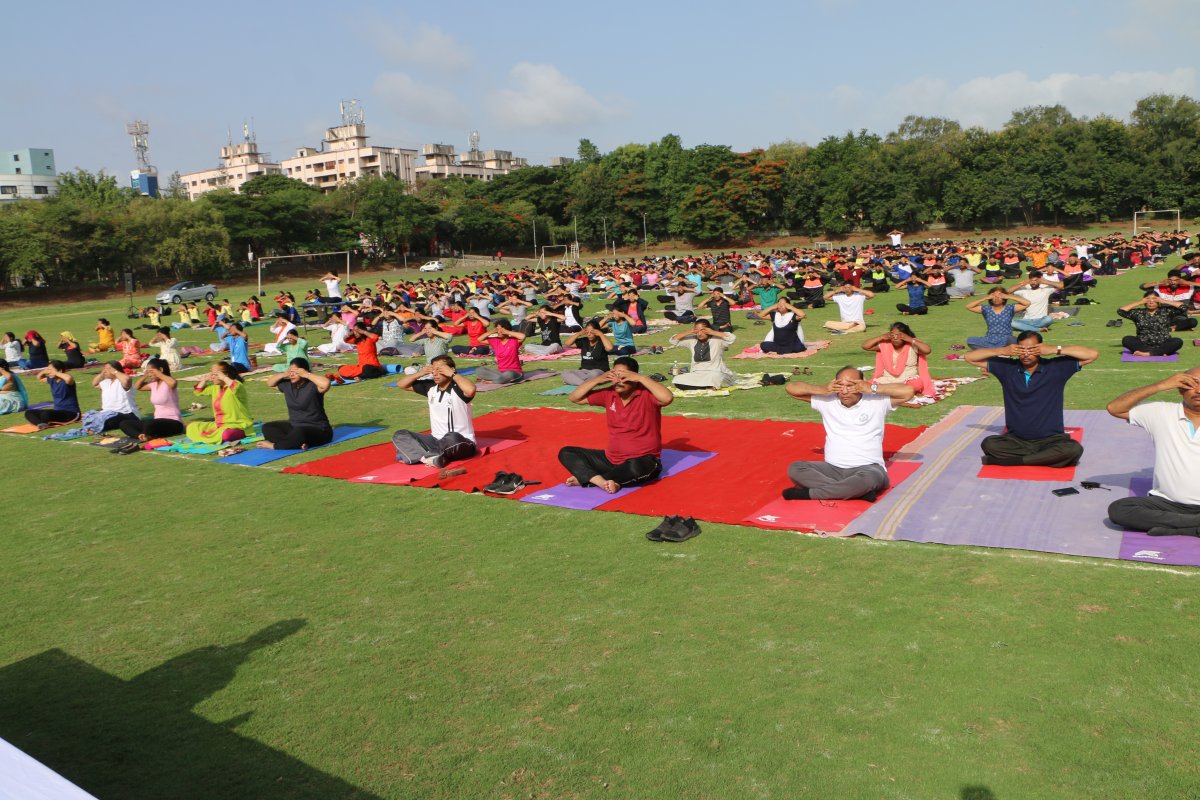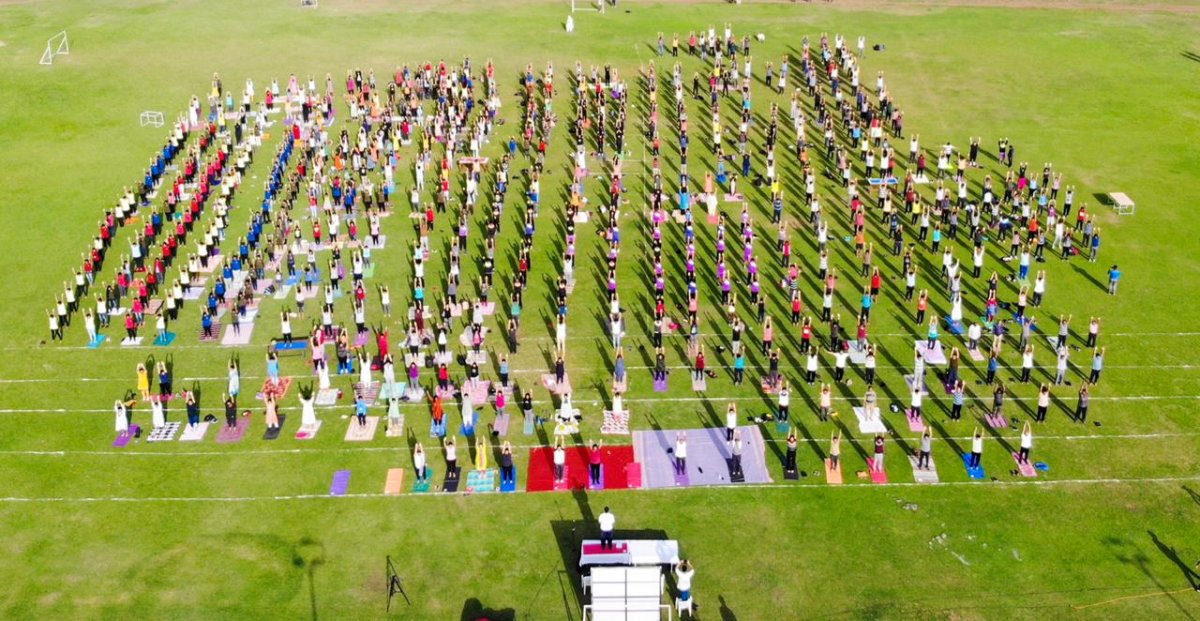 Tree Plantation
As a part of ongoing Van Mahotsava celebration and State Level Tree Plantation Initiative by the state government, Dravyaguna department and NSS unit of BV(DU) College of Ayurved initiated a tree plantation drive at the Bharati Vidyapeeth University campus Dhankawadi on 20/07/2019. The students, as well as teaching and non-teaching staff of Dravyaguna department planted a more than 500 saplings of indigenous trees during the event in the presence of Principal Dr Abhijit Patil.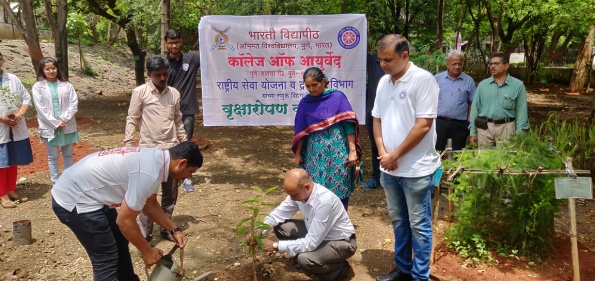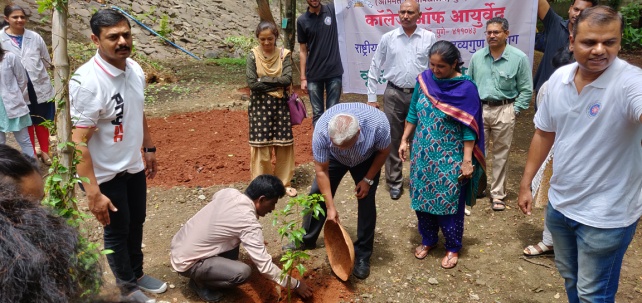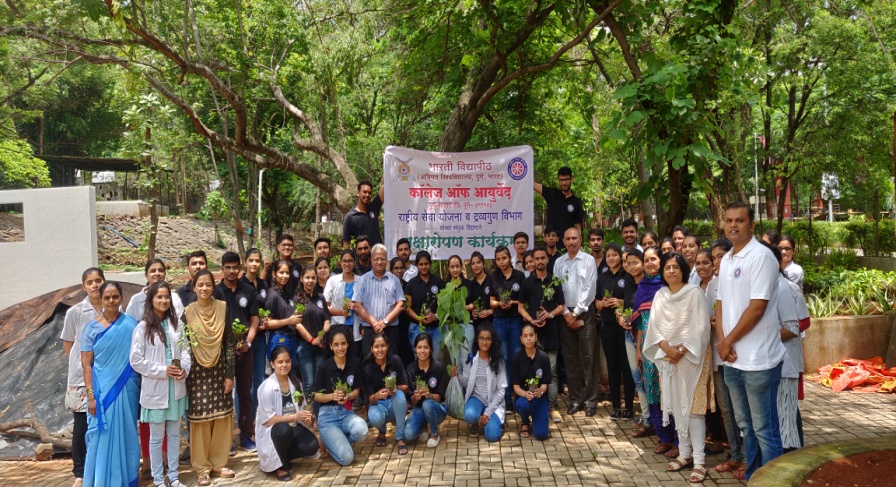 National Service Scheme (NSS) Winter Camp 2018
Bharati Vidyapeeth University College of Ayurved, Pune organized a NSS Special Winter Camp 2018 -19 at Kamathadi, Tal: Bhor Dist: Pune. from 05th to 11th December 2018. Total 30 NSS volunteers participated in the camp. The camp was inaugurated on 05th December 2018 at the hands of Shri. Chandrakantji Baburao Valhekar, Sarpanch Kamathadi, Tal: Bhor, Dist: Pune. Principal of the College of Ayurved Dr. Abhijit B.Patil stated the objectives of the camp. In this camp different activities were conducted such as Awareness Lecture Series, Cleanness Programme, Family wise Survey, Counselling about Toilets and Cleanness. Total health check up camp for villagers, Discussion with Mahila Bachat Gat and Yuva Mandal, Cultural Events. Series of lectures conducted on the social issues like Swachhatetun Samrudhhikade, and Chatrapti Shivaji Maharaj charitra. Every evening games and cultural activities organized by NSS volunteers.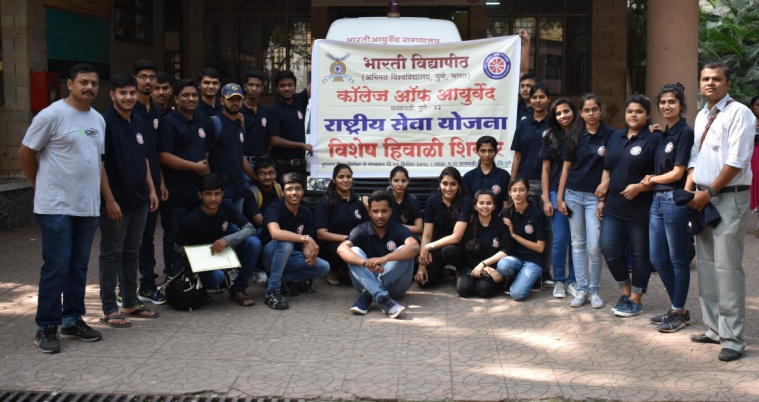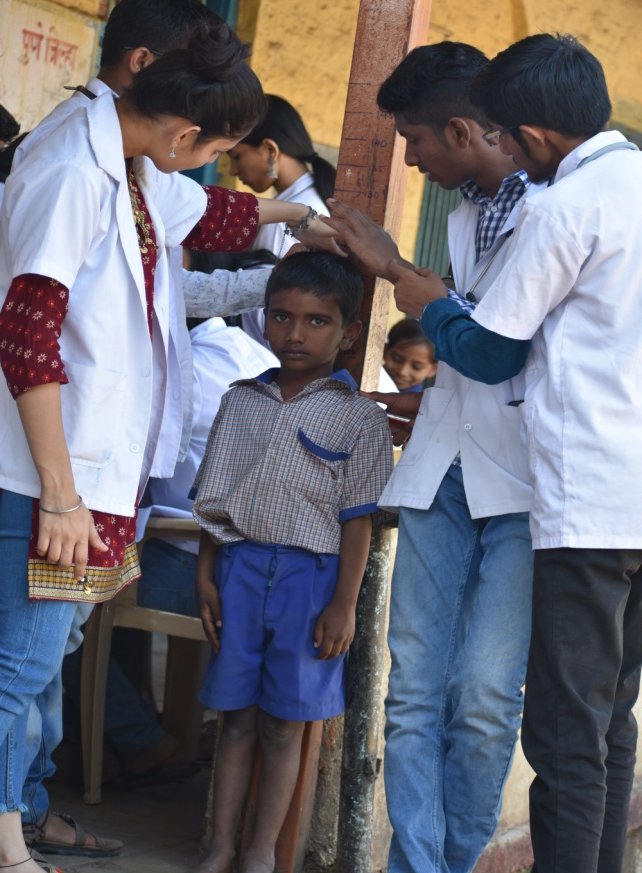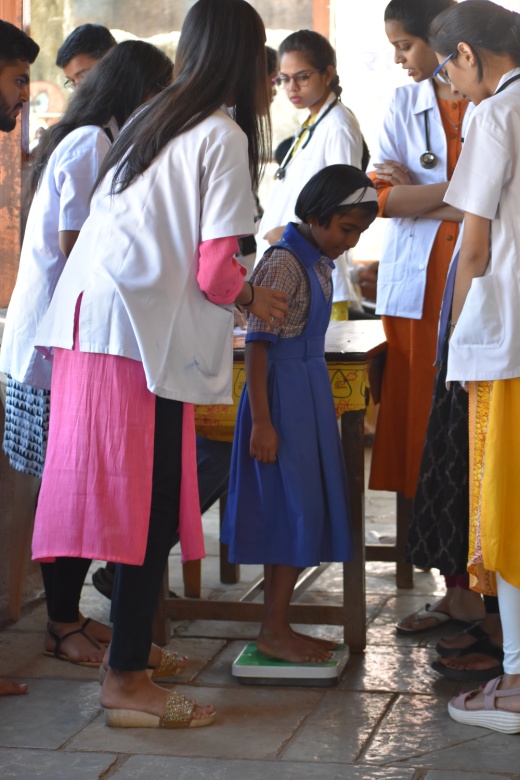 Tree Plantation Programme
Our NSS team organized a Tree Plantation Programme on the occasion of India's annual tree-planting festival, Van Mahotsav in the Bharati Vidyapeeth University campus, Katraj, Pune on June 06, 2017. Our NSS candidates identified appropriate place for plantation of Herbal Drug plants and prepared it for plantation. They also made the identification card of the plants and NSS candidates also committed themselves to nourish and maintain the allocated plan.
Dean & Principal Dr. A. B. Patil & all the Faculty of Dravyaguna Vigyan department were also present for providing the guidance about plantation.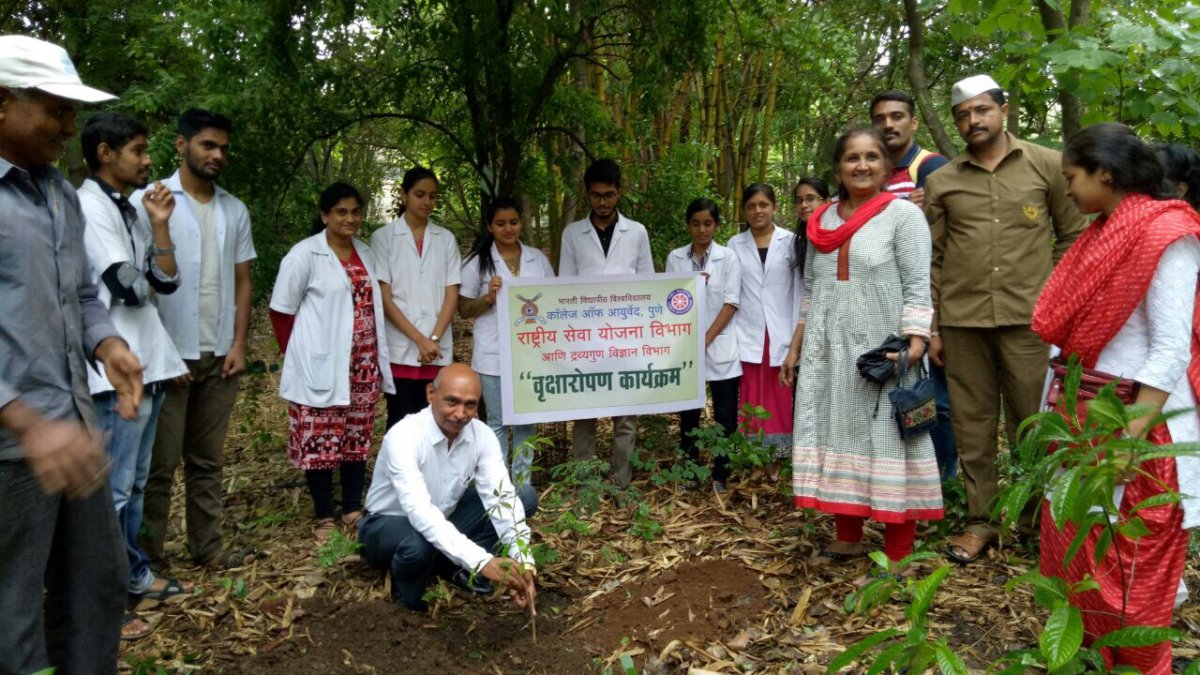 As per the circular of Government of Maharashtra about plantation of 4 crore trees, B.V.D.U. College of Ayurved organized tree plantation programme at Bahadurgadh Fort, Pedgaon, Ahmednagar on 30th July 2017.
This plantation program was part of establishing 'Nakshatra-Vana' Park at Bahadurgadh which is unique in many ways. It is not just about planting trees, but linking trees to popular belief. According to Ayurved, there are 27 spiritual trees been used for the plantation in 'Nakshatra-Vana'. 'Raj Nighanthu', an ancient Ayurved text has mentioned properties and use of 'Nakshatra-Vana'. All the 52 trees planted have been considered to be good for meditation and health related issues.
In this program, teaching faculty & NSS students have actively participated.
Blood Donation Camp
Bharati Vidyapeeth College of Ayurved & Hospital organized Blood Donation Camp on the occasion of birthday celebration of Hon'ble Founder & Chancellor Dr. Patangraoji Kadam and Hon'ble Secretary, Dr. Vishwajit Kadam on 26th December at Ayurved College Hospital.
In Inaugural Function, Hon'ble Vice Chancellor Bharati Vidyapeeth University, Dr. Manikrao Salunkhe graced the occasion as the Chief Guest, while Dr Wani, HoD, Bharati Blood Bank, Dr. Pathan, In-Charge, Bharati Blood Bank, Dr. A.B.Patil, Principal, Bharati Vidyapeeth College of Ayurved & Hospital and Dr.Mrs. Katakar, Medical director presided over the function.
More than 145 volunteers came forward to donate blood during the Camp which included teaching and non-teaching staff, students and non-student donors. At the end 103 units of blood was collected. The blood donors were provided with a blood donation certificate card by Bharati Blood Bank and the Camp.