Cultural Committee
The college believes in all round development of student personality as a goal of education. It aims to provide rich cultural experiences so that student appreciates the multi-cultural diversity of the society.

Especially in medical profession a doctor must be sensitive to the patient psychology and should be able to reassure him for good health. We need to express our emotions somewhere and various cultural events provide an excellent media for that. To avail such platform for students, institute formed the Bharati Kala & Krida Pratishtan.

The cultural association is constituted in the beginning of each academic year. It comprises of a chairman and staff members. A student's representative, the Cultural Secretary is nominated in the association.
Cultural Committee members of Current Year
Chairman
Dr. Abhijit B. Patil
In-charge
Dr. Kavita V. Indapurkar
Members
Faculty:



Dr. Santosh Mulik
Dr. Kirti Bhati
Dr. Swati Gadgil
Dr. Vedika Sadale
Dr. Amol Patil
Dr. Umesh Ghate
Dr. Amit Paliwal
Dr. Madhuri Bhide
Dr. Sangam Mane
Dr. Prasad Pandkar
Dr. Manisha Kadam

Students


G. S.
Anurag Madhav Waingankar
C.S.
Prachi Rajaram Yadav
S.S.
Manasi Mahadev Bacche
Aims and Objectives
To appreciate the rich multicultural, multi-linguistic tradition of Indian Society & understand the significance of the meaning of Unity in Diversity.
To develop a truly secular attitude towards the pluralistic fabric of Indian Society by learning and appreciating diverse culture.
To develop a holistic and humanitarian attitude as members of the world community in this era of globalization and modernization by learning aspects of Indian as well as western cultures.
The College arranges an Annual Social Gathering, in which students are motivated to take part in Dance, Drama, Singing, Fancy dress, Antakshari etc and to celebrate different festivals to show great Unity of India.
Prizes for academic excellence, winning in sports and all cultural events are awarded to winners. Persons of high excellence in different fields are invited to guide & encourage the students by giving prize & their motivational speech.
The well-known celebrities invited for such events are -Mr. Rvindra Mahijani, Mrs. Nishigandha Wad, Mr. Aniket Kelkar, Manasi Naik, Miss. Sheetal Mahajan, Miss. Manasi Desai etc.
Achievements
Participation of students in Sholka Competition On 13th Jan 2020
On 13th Jan 2020 slok recitation competition was arranged from Samhita department of our college .Many students had participated in this activity and five students were awarded .The names of awarded students are Anurag Waigankar, Aneesh Jamdade, Rama Bendale,Yatika Rana, Aditi Borgaonkar.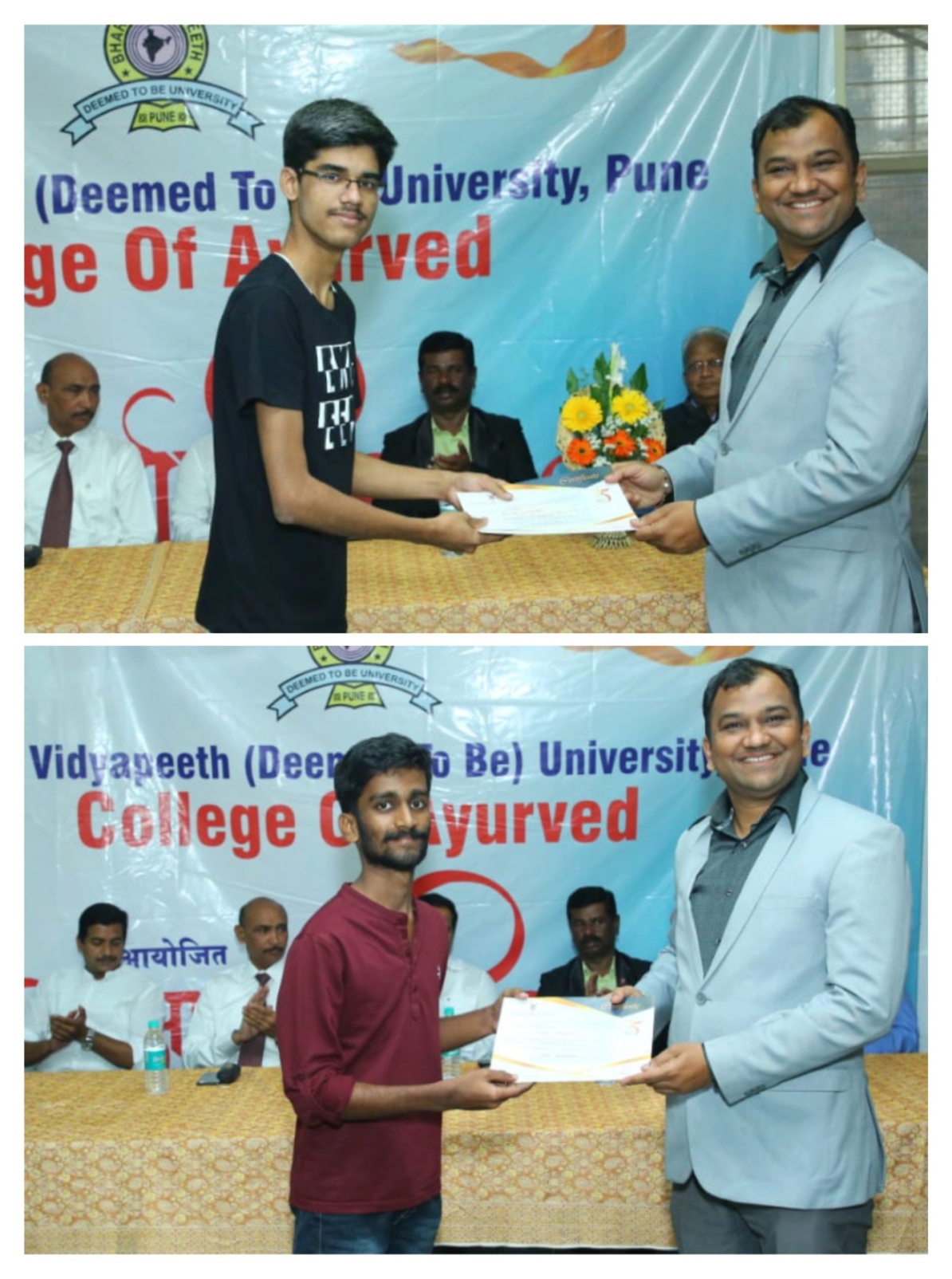 Participation in National level GK contest On 7th Jan 2020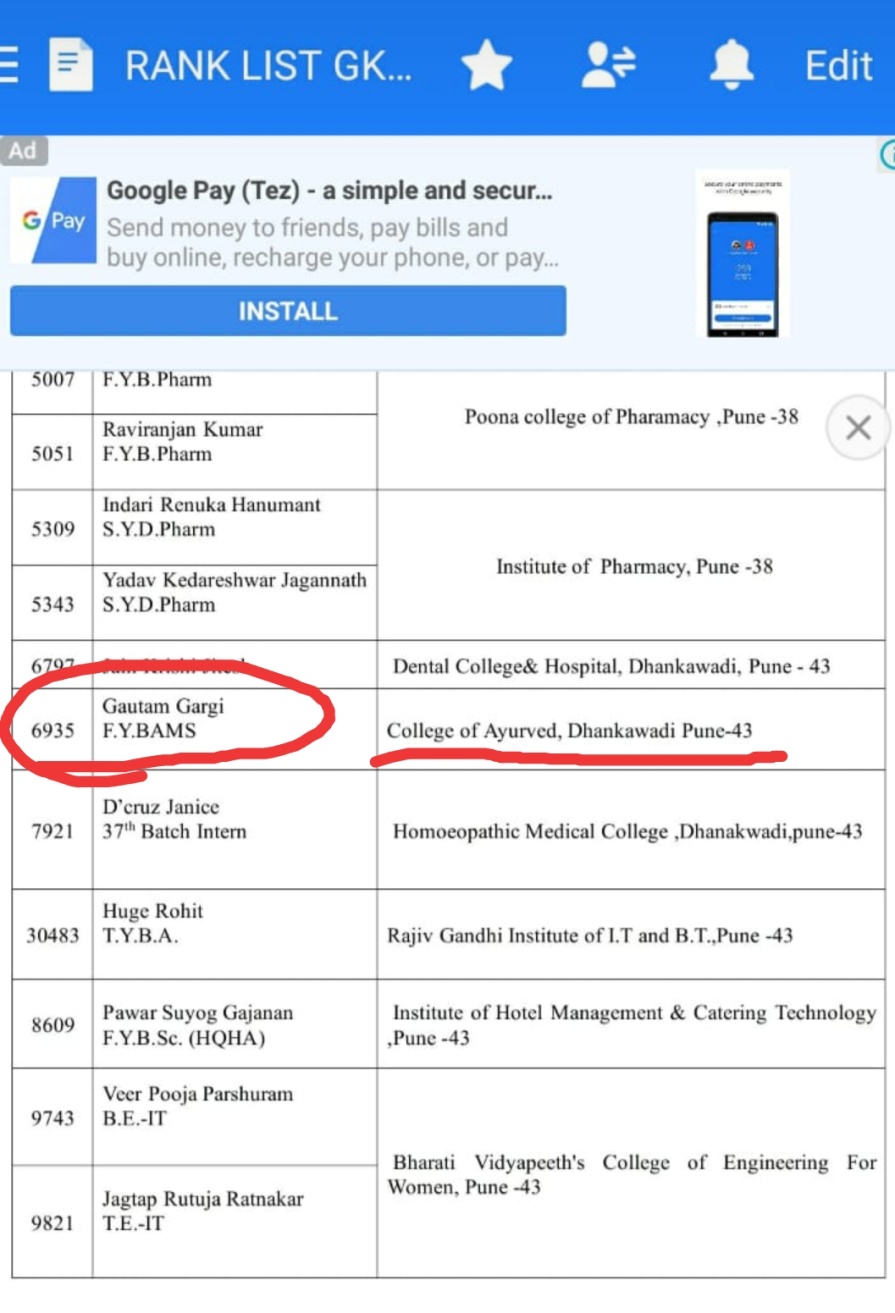 On 7th Jan 2020 a national level GK contest was held in which Gargi Gautam the first year student of our college had won a prize.
Participation of students in Gathering during 17th and 18th Feb 2020
On 17 th and 18 th Feb 2020 students celebrated cultural days in our college.Fashion is a thing that rejoices everyone. Girls enjoyed these days from draping sarees to western outlook and boys from kurta to blazers .Few did twinning and rare ones came in hallowing look. Students had great day and lots of photography.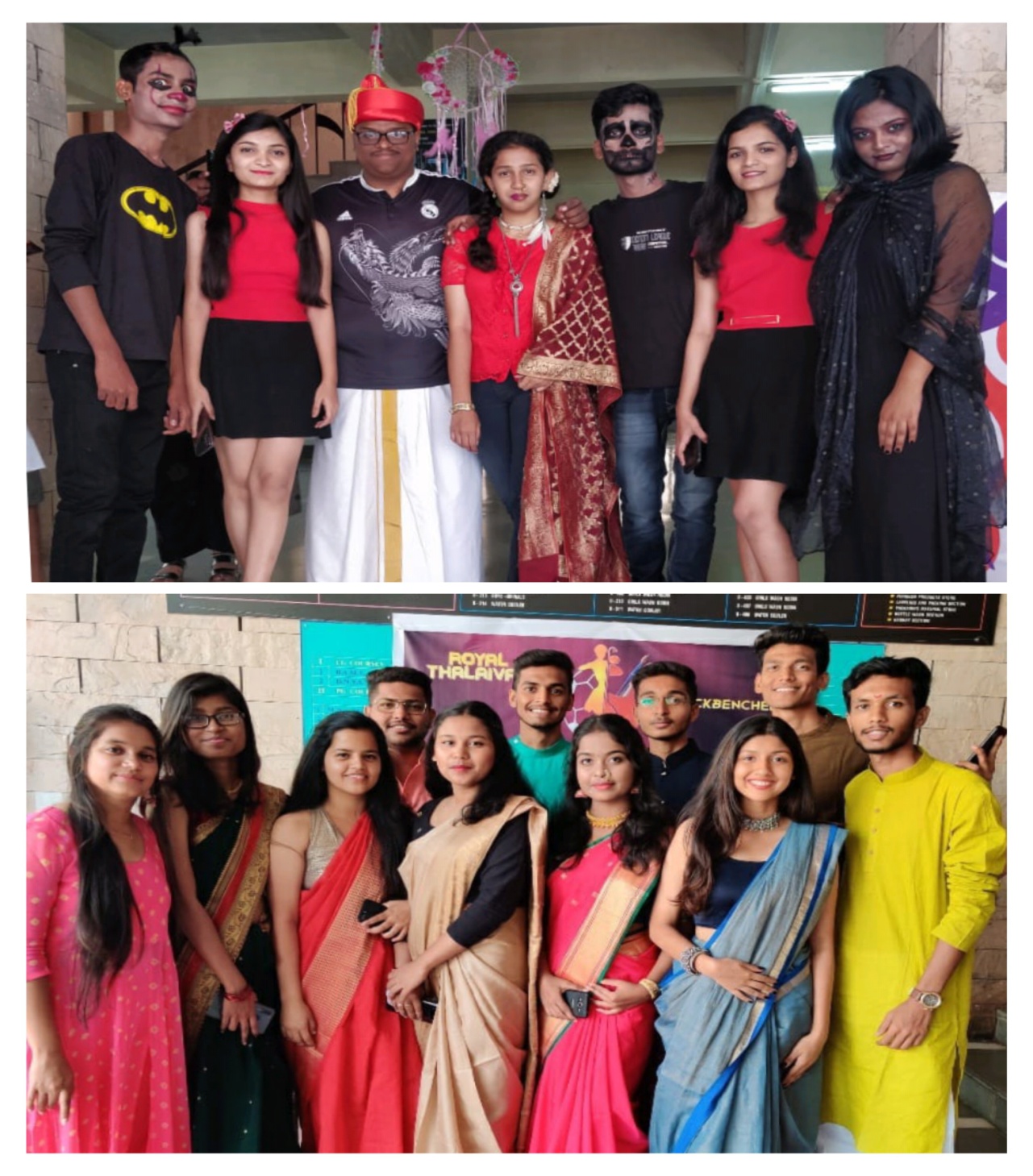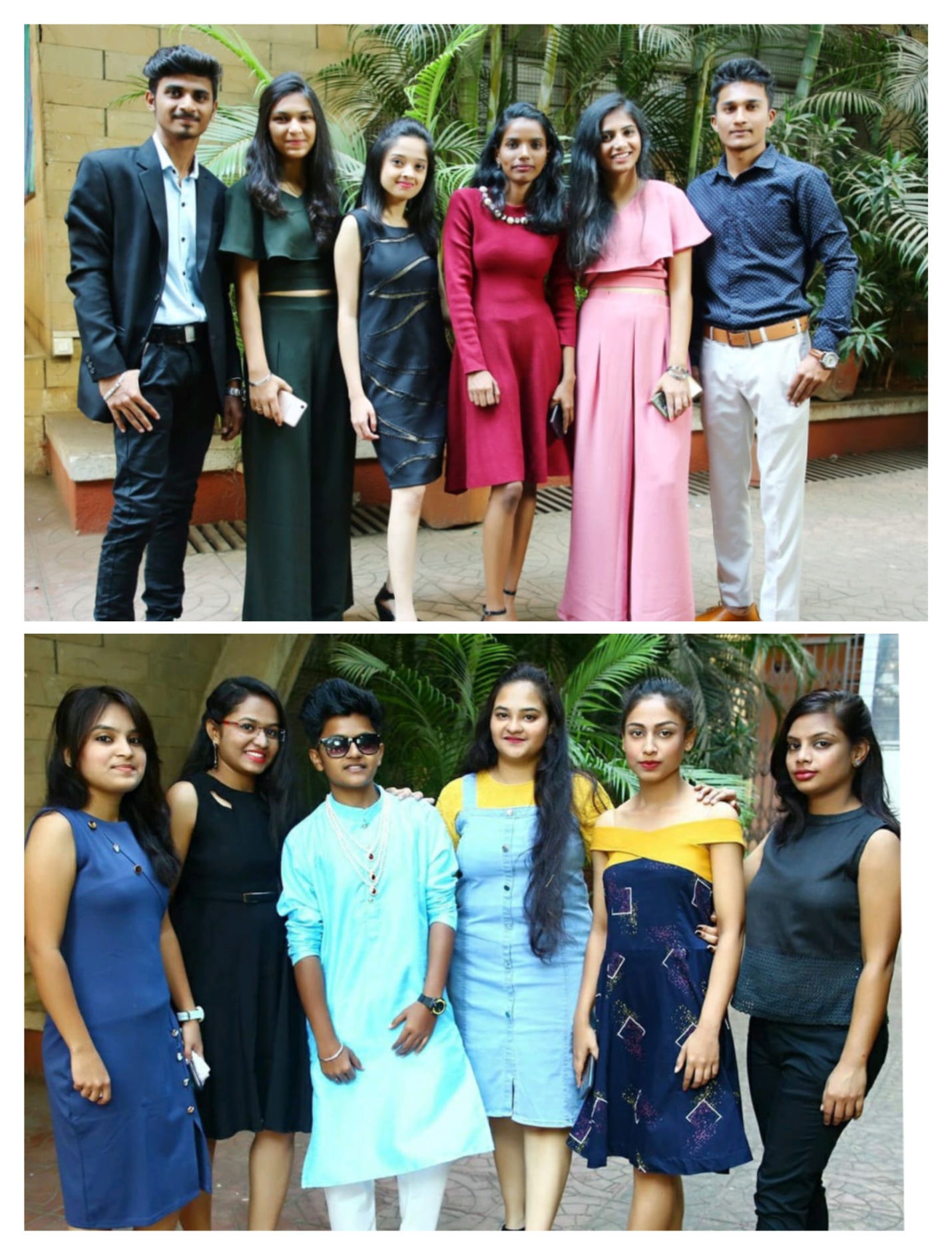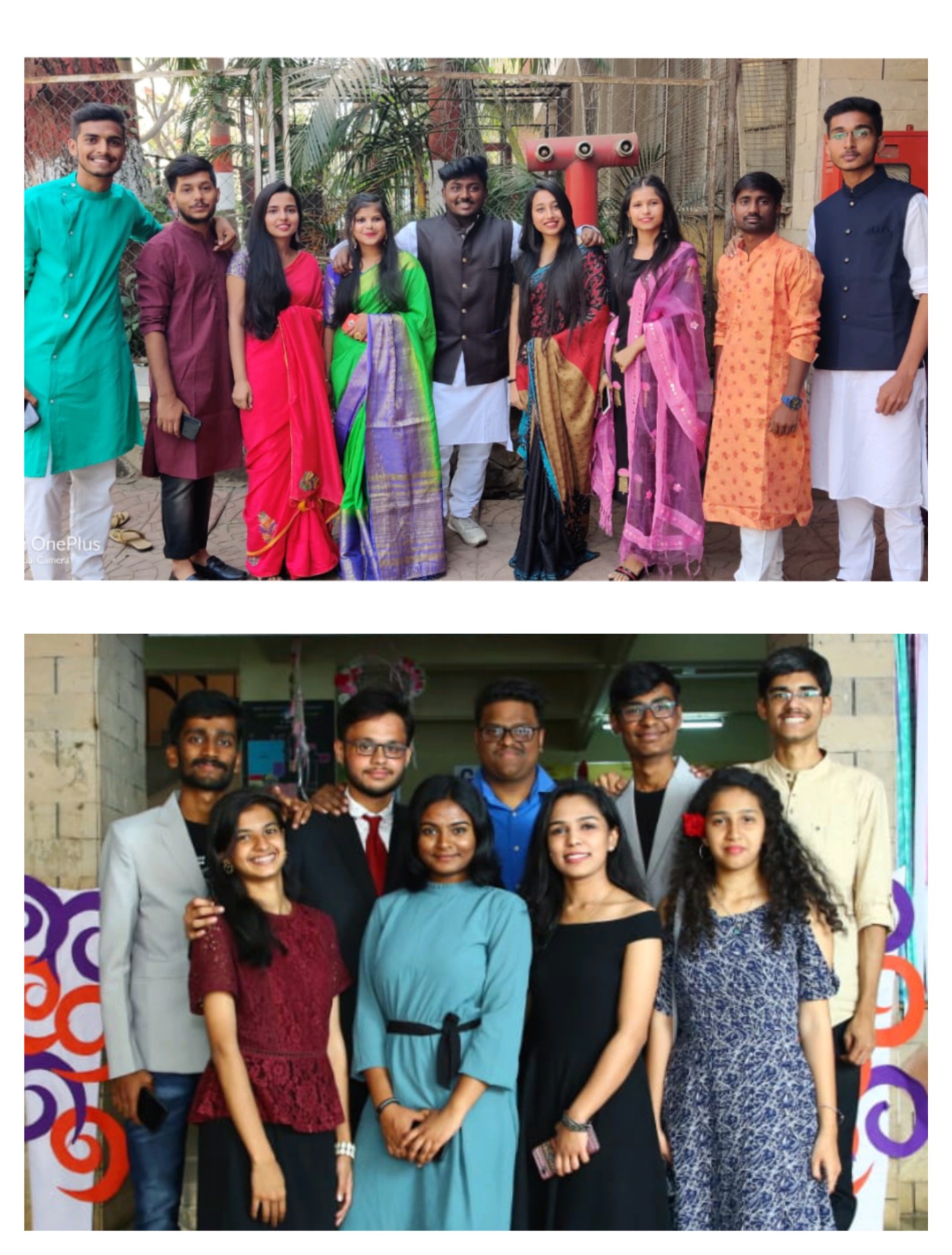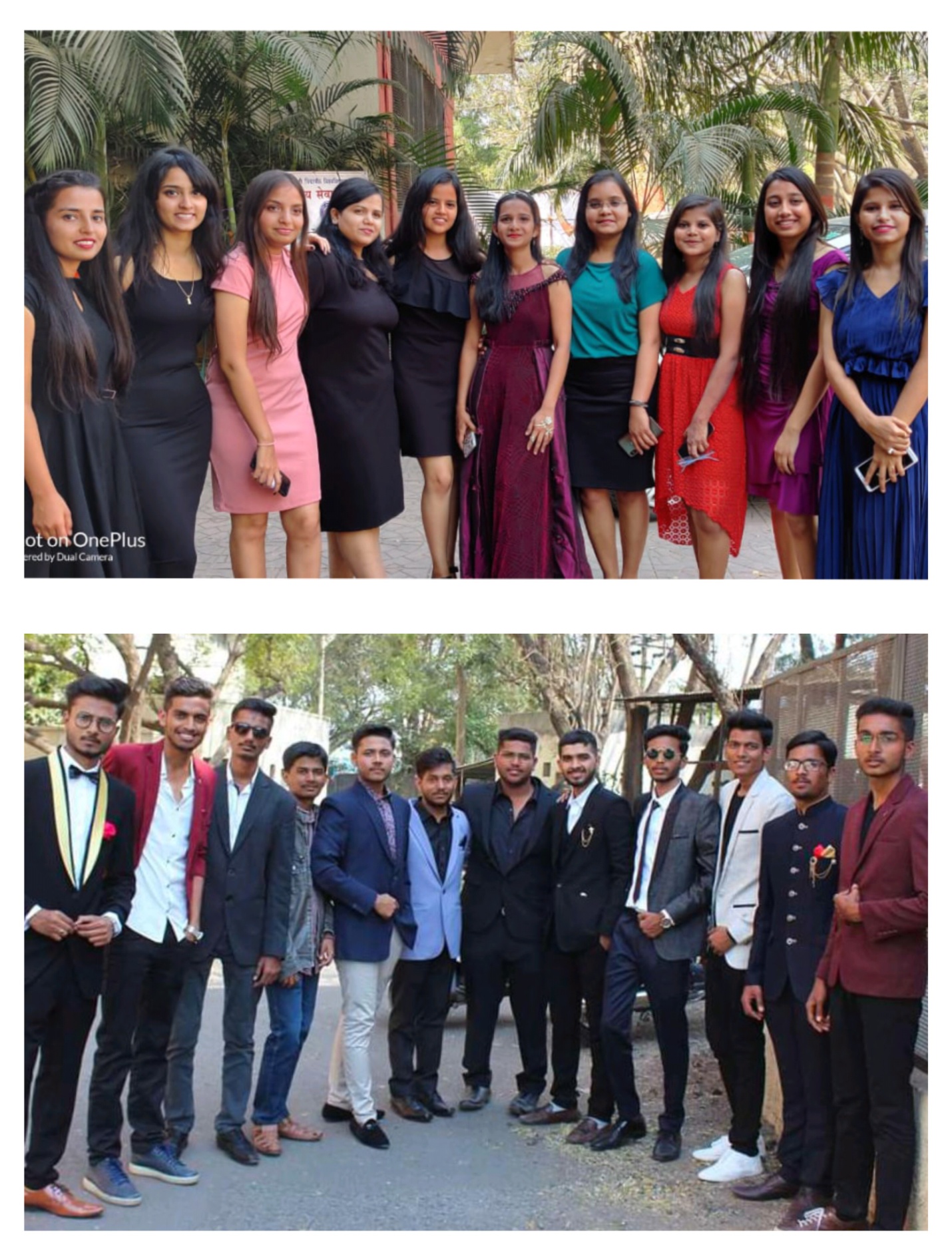 Shivajayanti Celebrations: Bharati Vidyapeeth College of Ayurved Students' Council 2019 celebrated "Shivajayanti" on 19 Feb 2019 11.00 am. The program started with salutation to Shiva pratima and the 'Jyot Poojan' by the hands of Dr. Santosh Mulik, Dr. Ninad Nangare, Dr. Bharat Rokade, Dr. Shelar along with student representatives.


The students then enthusiastically spoke about Shivaji Maharaj and his great work. Dr. Ninad Nangare sir educated the students about Maharaj's charismatic life and lessons from it to follow. The main speaker Dr. Santosh Mulik delivered lecture on 'Yuddhaneeti of Maharaj', the pre-planning behind it and what today's youth needs to learn from it.




Rotary Club of Shaniwarwada had organized an Elocution Competition on the topic PEACE AND CONFLICT at SNDT women's university, Karve road, Pune, Maharashtra on 30th January 2019. In this event more than 75 students of International and Nationalinstitutes participated. Our intern Dr. Suraj Singh represented BVDU College of Ayurved, Pune and won Special consolation prize of Rs.3,000/-

A program was organized by National Youth Congress on Monday 4th February 2019 under "SOCH SE SOCH KI LADAI". In this program an event was conducted under theme Youth Participation in Development of Country and Policy Making. Former cricketer, commentator and Cabinet Minister of Punjab Government Mr. Navjot Singh Siddhu and National secretary of IYC Mr. Krishna Allavaru were present in this event. In this event Dr. Suraj Singh (Intern at BVDU College of Ayurved) represented College. He expressed his thoughts on the topic 'Amendment in Current National Youth Policy and New ideas by Young India for Development' extemporarily.




Our IV B.A.M.S student 'Miss.Parul Sethi' participated in Late Vaidya H.B Paranjape All India Elocution Competition organized by Ashtang Ayurved Mahavidyalaya, Pune. The competition was on 7th February 2019 at Ashtang Ayurved Mahavidyalaya. She received 1st prize which includes certificate and cash prize of Rs.2500/-

IIIrd year student Mr. Suraj Singh won 3rd prize in National Elocution Competition organized by IMED Pune on Monday 9th January 2017.
Our IInd year BAMS student from BVDUCOA, Pune Miss. Vibhawari Kshirsagar is the winner of "Shravan Queen 2018" contest from Pune City " organized by Maharashtra Times. She was also the title holder of three subtitles at city level and state level for the same contest:

MT Miss popular
MT Miss beautiful eyes
MT Miss readers-choice




Our another 2nd YEAR BAMS student Rinku Shailendra More was winner in

GLAM BRAND 'MISS INDIA 2018' organized by Glam Brand Agency (City level competition) at Pimpari, Keys Hotel on 20/12/2018
She is also First Prize winner in group dance in NSS cultural event organized by Bharati Vidyapeeth (Deemed to be) University, Pune on 26/09/2018 at Medical Auditorium, Bharti Vidyapeeth. She was choreographer and lead dancer in the dance performance.